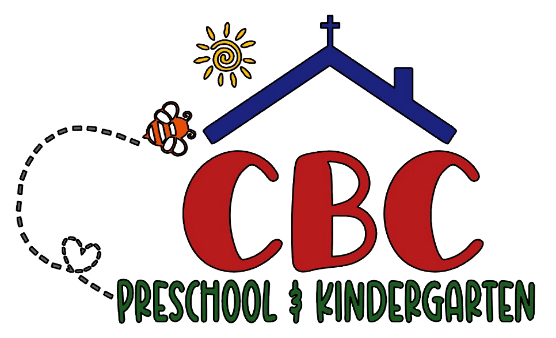 Weekday Preschool
2023-2024 Open House
Monday, July 31, 2023 for our Kindergarten, Pre-K and MWF classes | 8:00 AM
Tuesday, August 1, 2023 for our T/TH classes | 8:00 AM
Contact email: weeministries@cbcsite.org or call 423-926-3696 with any questions
Central Baptist Preschool & Kindergarten is dedicated to providing Christian growth and preparation for entry into public or private schools to children from 6 weeks to six years old. Our Program is structured to provide growth in each child's development…
Spiritually - The Program will help each child gain knowledge of God, and His love and care.
Physically - Indoor and outdoor play (both structured and unstructured) will help each child gain physical strength and develop motor skills.
Mentally - By giving opportunities for self-expression, investigation and participation in group activities, each child will increase in knowledge of the world and how to live in it. Our goal is to promote the processing of information and to motivate learning.
Socially - Each child will learn to work and play with children in the same age group. Each will learn to respect the personal property rights of others, and to express kindness, courteousness, and consideration toward others.
Emotionally - Caregivers will assist each child to mature in reaction to emotional situations and in the expression of emotional response.
Bible Enrichment: Our Enrichment class provides a different educational activity each day for children age 12 months and up enrolled in the Preschool and Kindergarten programs. Each class receives individualized instruction with our enrichment teacher.

Schedule
The Weekday Preschool operates from August to May for the normal school year.
Preschool (6 Weeks - 4 Years)
9:00 AM - 2:00 PM, either M/W/F or T/TH
Pre-Kindergarten
9:00 AM - 2:00 PM, Monday through Friday
Kindergarten (Must be 5 years old by August 15 of the entering year)
9:00 AM - 2:00 PM, Monday - Friday
Extended Care Program ($7.00 per hour)
Morning Care 8:00 - 9:00 AM
Afternoon Care 2:00 - 3:00 PM
*The child's age as of August 15th determines entering the classroom (12 months-Kindergarten)

Tuition
Preschool
2 days per week - $200/month
3 days per week - $250/month
Pre-K
5 days per week - $315/month
Kindergarten
5 days per week - $330/month
Extended Care
$7.00 per hour
Morning Extended Care - 8:00 - 9:00 PM
Afternoon Extended Care - 2:00 - 3:00 PM
Other Fees
Registration Fee: $85/$75 (with sibling discount) NON-REFUNDABLE
Preschool Supply Fee: $90
Kindergarten Supply Fee: $100

Upcoming Events
FALL 2023 Fundraiser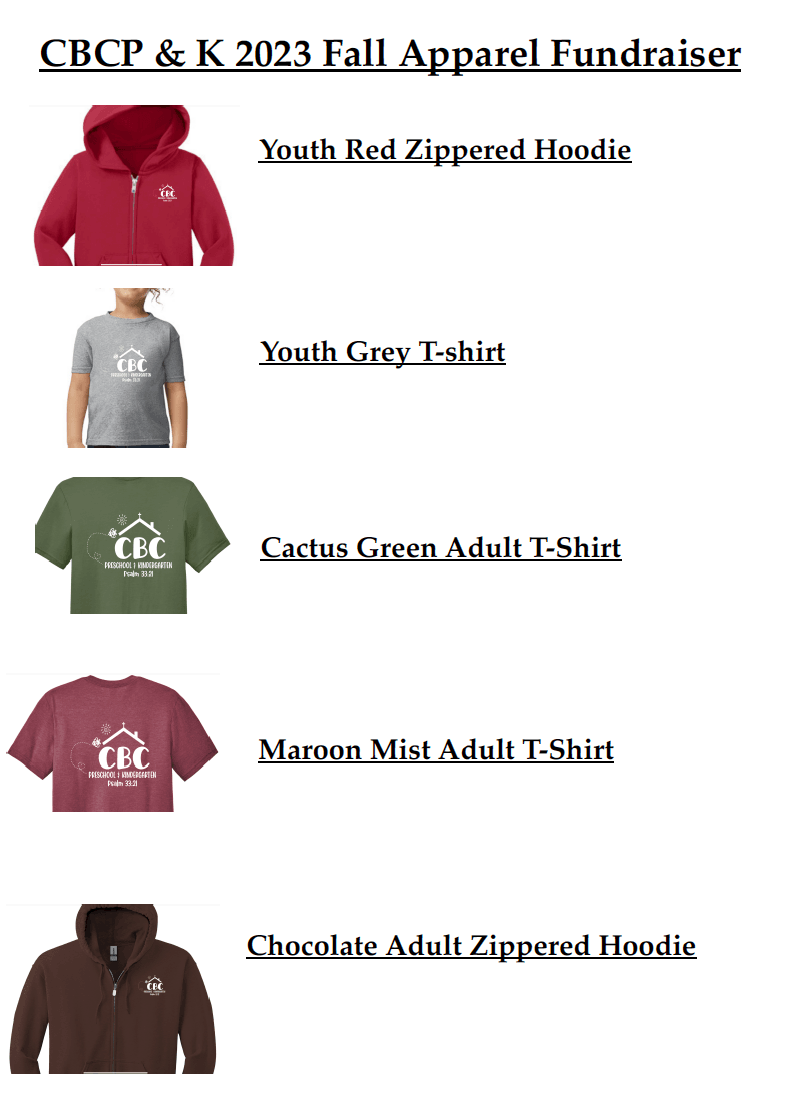 Red Toddler Zipper Hoodie - $25, Sizes 2T, 3T, 4T
Red Youth Zipper Hoodie - $30, Sizes Youth xs, Youth S-XL
Sport Grey T-Shirt Child - $15, Sizes 2T, 3T, 4T, 5T, 6T
Cactus Green T-Shirt Adult - $20 (Add $2 for 2XL-4XL), Sizes Adult XS-4XL
Maroon Mist T-Shirt Adult - $20 (ADD $2 FOR 2XL-4XL), Sizes Adult XS-4XL
Adult Chocolate Zipper Hoodie - $35, Sizes Adult s-4XL

Contact Us
Email: weeministries@cbcsite.org
Phone: 423-926-3696

Information & Forms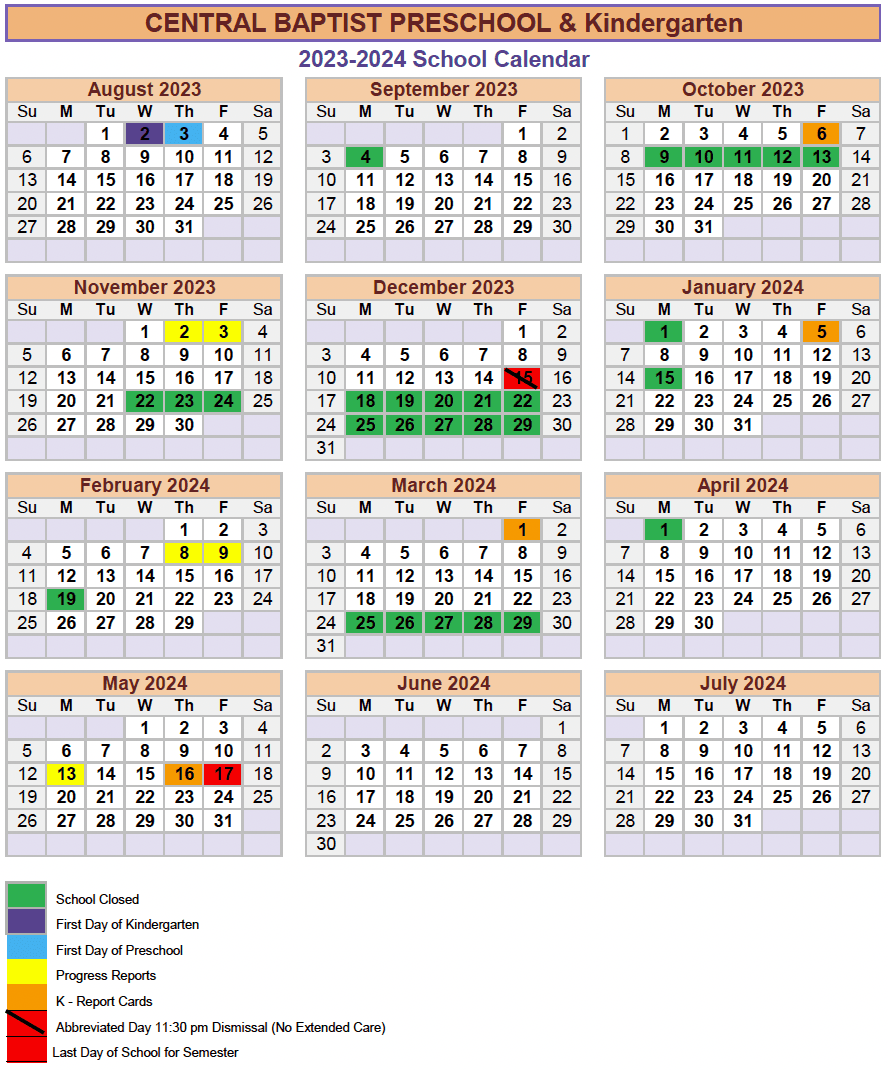 *All children must have a "Tennessee Department of Health School Immunization Certificate" on file before beginning the program.
Staff
All of our staff members are experienced early childhood educators. Our entire staff is encouraged to enhance their education and experience through training classes, offered as part of our continuing teacher education program. All teachers meet or exceed the 30- hour minimum required by the Department of Education for all childcare workers. All Kindergarten teachers are licensed by the State of Tennessee.