Adult Ministry
Discipleship Central
Discipleship Central (DC) is part of the spiritual formation strategy of Central Baptist Church. Although there are other components to this strategy, DC is an important part of the discipleship process at Central.
Not all of our DC, but most, meet on Wednesday Nights. Some meet earlier, and in the future, Groups will meet on other days at various times. It is our desire to provide multiple opportunities for members and others to connect with other believers in a small group.
Additional Groups provided by CBC include Sunday Morning Small Groups (Sunday School Groups), Ministry Groups, and DNA (Discipleship, Nurture, and Accountability) Groups. You may check online or at the Welcome Desk for a listing of Sunday Morning Small Groups. DNA Groups are semester based with periodic enlistment. However, if you are interested in joining a DNA Group do not hesitate to email mdavis@cbcjc.org or text 205-394-3279 for more information.
Click on the button below to view the Disciple Central Packet.

Central Hospitality Groups
Central Hospitality Groups will launch in January 2023. You may complete the form to sign up by clicking the button below to indicate that you would be interested in having 3-5 Central members with whom you are not already acquainted in your home for dinner OR you are open to enjoying time in the home of another Central member. You may complete a form as many times as you would like. Each time we will pair you with someone different. This is a great way to meet more members in a shorter amount of time! Once you fill this form out, a member of our staff will be in touch with you in one to two weeks.

Adult Sunday School
Adult Bible Study Classes meet every Sunday at 9:30 AM. Our adult classes provide adults with the opportunity to study God's Word in small groups that offer care, support, and encouragement. Our Bible study classes are designed to equip people of all ages and all spiritual levels to discover biblical truth, to believe the truth revealed in the Bible, and to live out this truth in everyday life.
Below is a complete listing of our wide variety of Adult Bible Study Classes.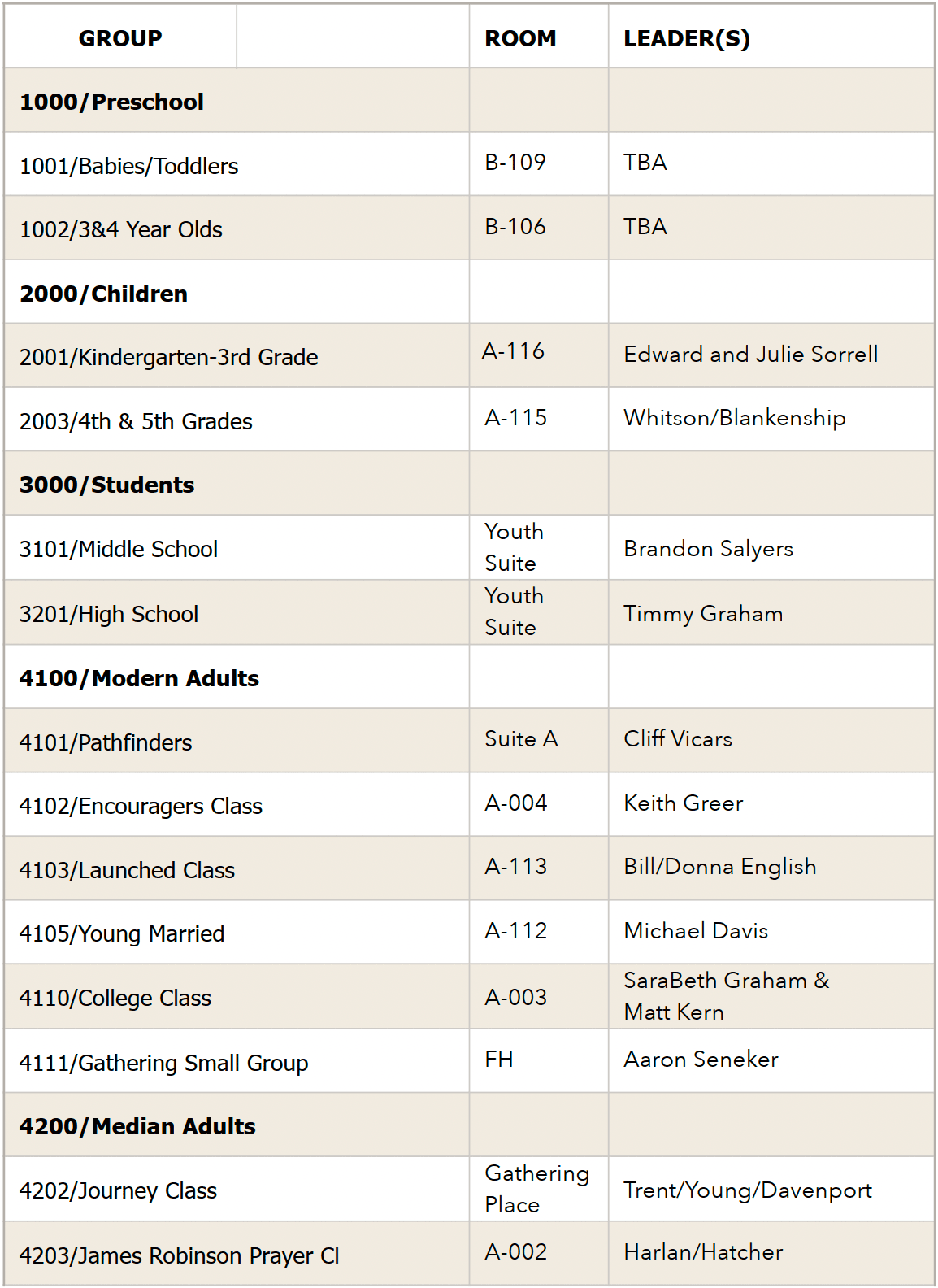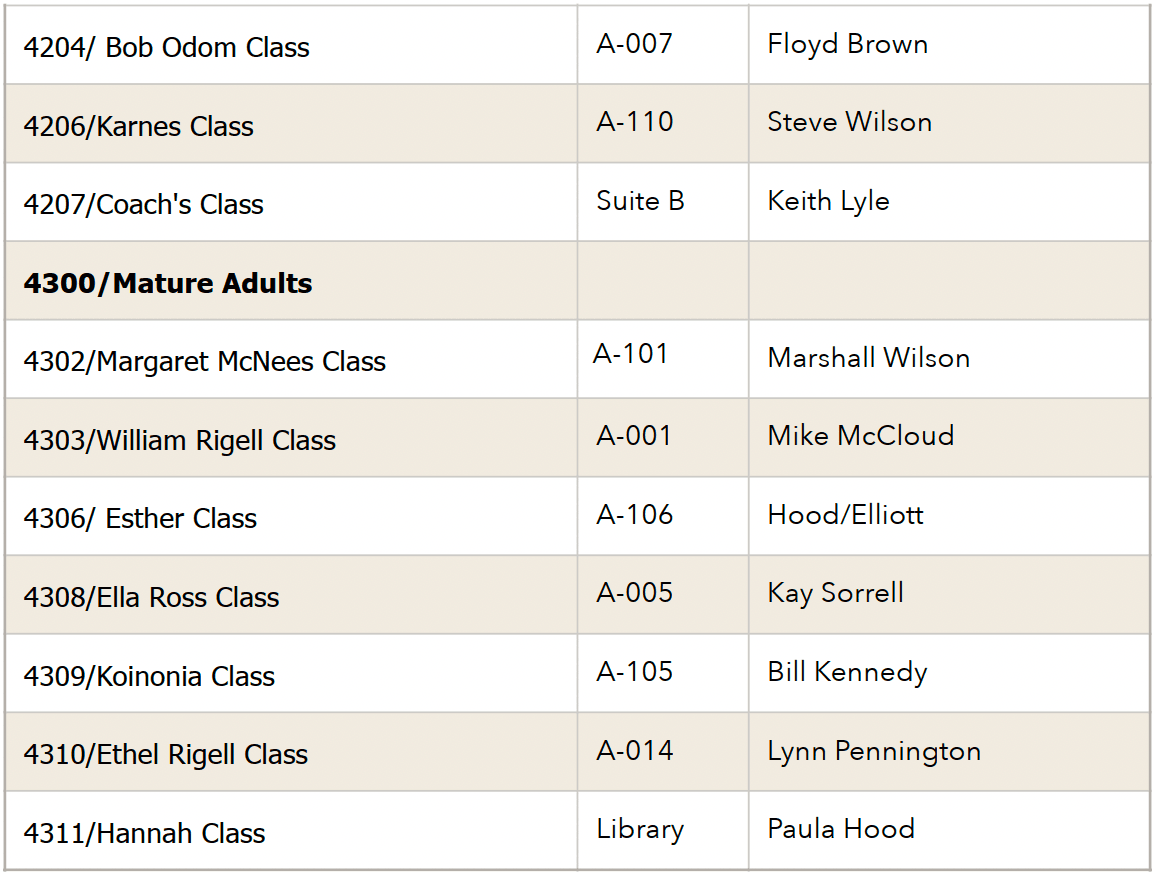 Discipleship Classes & Small Groups
CBC Group Finder

DNA Groups
A DNA Group usually consists of five people—men with men, women with women—who meet together weekly or every other week to be known and to bring the gospel to bear on each other's lives so that they grow in and live out our DNA as a church to love God, love each other, and love our world.
Discipleship, Nurture & Accountability (DNA)
The mission of God is to restore all things to himself in and through the work and person of Jesus Christ. His chosen vehicle through which he is accomplishing that mission is the church. As God restores us to himself, he is also restoring us to be who he intends us to be. This restoring work does not happen in isolation, but rather in and through our relationships with each other as family. We do not do it alone. We need each other.
Click the button below for more information.

Special interest Groups
Stained Glass Class | A-110
Mondays
Time: 9:00 AM - 12:00 PM
Leader: Lynette Eshbach
Silver Brushes | A-111
Mondays
Time: 9:00 AM - 12:00 PM
Leader: Bill Russell
Knitting & Things | A-105
Wednesdays
Time: 6:00 - 7:00 PM
Leader: Teresa Buchanan

Leaders
Dr. Tommy Hood
Senior Pastor
thood@cbcjc.org
Gene Elliott
Outreach & Congregational Care Pastor
gelliott@cbcjc.org
Kirsten Borger
Senior Pastor, Administration & Education Pastor Ministry Assistant
kborger@cbcjc.org